The IAS Dairy Mineral Scan
The integral role that minerals play in a successful breeding cycle of the mid-lactation cow cannot be overlooked. Trace minerals, such as Copper, Iodine, Zinc and Selenium, along with Vitamin E play an important role in boosting fertility and enhancing the animal's immunity. When animals are on grass they will still require these trace minerals, as they are often deficiencies on many farms.
The benefits of the IAS Mineral Scan (Milk & Grass), gives you a full picture of your current mineral status of your farm and herd in addition to checking that your nutrient management plan is sufficient to maintain and maximize the grass growth throughout the coming season. The scan will not only pinpoint deficiencies but will highlight imbalances which may exist on most Irish farms at some level.
By using the information provided by the IAS Mineral Scan farmers can make informed decisions on the necessary minerals/feeds required which will bring back balance to the herd which has been proven to alleviate problems with fertility, thrive and low milk quality/production.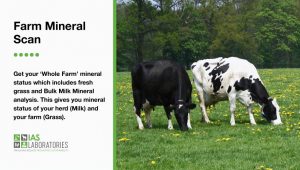 Milk Testing
Milk mineral analysis is an invaluable tool to the modern-day dairy farmer. This test can help get to the root cause of issues such as poor fertility rates, high somatic cell count, retained placentas or poor thrive.
Testing a bulk milk sample is a convenient way to identify your herds mineral profile and validate the effectiveness of your current mineral nutrition programme.
Individual milk samples can also be tested to target problems with under-performing cows.
Milk Mineral Scan
Magnesium
Selenium
Sulphur
Sodium
Copper
Zinc
Iodine
Iron
Calcium
Phosphorus
Potassium
Manganese
Molybdenum
The IAS Milk Mineral Scan provides you with a clear indication of your herds' mineral profile and allows you to make calculated adjustments to your farm's mineral supplementation programme if required.
Grass Testing
Mineral Analysis is an invaluable tool to the modern Dairy Farmer and is easily attainable by getting a mineral profile on your forage. Grass analysis is a vital practice on livestock farms as it assesses the likely feed value and animal performance do that suitable mineral supplements and rations can be formulated as required. A grass mineral scan will quantify deficiencies and imbalances in major and trace minerals. Grass analysis for both major and trace minerals allows the farmer consider all the dietary needs of the herd and will help the farmer and advisor decide the appropriate supplement required.
Grass Mineral Scan
Calcium
Magnesium
Selenium
Sulphur
Sodium
Copper
Cobalt
Zinc
Iodine
Iron
Aluminium
Phosphorus
Potassium
Nitrogen (Kjeldahl)
Manganese
Molybdenum
The IAS Grass Mineral Scan provides you with a clear indication of your farms mineral profile.
Blood Mineral Analysis
IAS Laboratories offer a full range of mineral testing on blood samples for a range of veterinary practices, agricultural consultants and medical laboratories.
Blood Mineral Analysis Services Include:
GPX Selenium (sample must be in a Lithium Haparin).
B1 Blood Scan: Calcium, Magnesium, Sulphur, Copper, Zinc, Molybdenum, Selenium, Iodine (Indicator Value Only).
Please note that your vet must take the blood sample.
Call us on 059 972 1022 to discuss in further detail.
Alternatively, our Milk Mineral Analysis can be used to identify deficiencies
Hair Mineral Analysis
We can analyse horse hair for a range of mineral elements. Trace element deficiencies and imbalances are widely recognised as a contributory factor in developmental orthopaedic disorders and reduced herd fertility.
Lower rainfall periods and extended dry spells have increased selenium levels in high risk areas throughout the country. The summers of 2013 and 2018 resulted in a higher incidence of selenium toxicity in stud farms.
Hair Mineral analysis provides a mineral profile for a number of important elements including selenium.
Hair Mineral Scan
Calcium, Phosphorous, Magnesium, Copper, Manganese, Zinc, Molybdenum, Selenium, Iodine, Iron.
For More information, please visit: