Crop Tissue Analysis
A soil test will indicate what nutrients are available to a growing crop, but a crop tissue analysis will identify a "hidden-hunger". Crop tissue analysis helps farmers accurately measure a crop's current nutritional analysis. Reasons for carrying out tissue analysis include:
• Identifying nutrient deficiency, toxicity or imbalances.
• Forecasting potential deficiencies in current or future crops.
• Anticipating the need for various essential nutrients at critical growth stages.
• Identifying nutrient uptake in order to determine the cost-effectiveness of current and future fertiliser applications.
An IAS Crop Tissue Scan includes:
• Nitrogen
• Phosphorus
• Potassium
• Magnesium
• Sulphur
• Calcium
• Manganese
• Copper
• Zinc
• Sodium
• Boron
• Iron
• Aluminium
IAS provide a 5 working day turnaround of results, therefore allowing you to carry out any necessary fertiliser or trace element applications in a timely manner.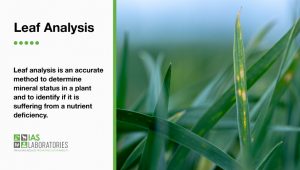 For More information, please visit: